Services
LLP Ranchland offers a range of ranch real estate services to land owners as well as potential buyers. We also offer land appraisals and broker's price opinions.
Services for Sellers
When you list your property with Lee, Lee & Puckitt Associates, Inc. not only are you are putting your trust in a firm with over 100 years of combined real estate sales experience and over 1 million acres of closed agricultural land transactions, but you will also gain access to a full suite of property marketing services and avenues, free of charge*.
We believe that by choosing Lee, Lee & Puckitt as your land broker, you expect nothing less than excellence in your seller experience. Because of this, we give all properties, large and small, the VIP treatment with regards to marketing and exposure. Our years of experience and adaptability allow us to effectively utilize traditional and new media marketing avenues to market your property to serious buyers both nationally and internationally, and more importantly, get your property sold fast.
In addition to our legacy of excellence and expertise in land sales, your listing with Lee, Lee & Puckitt Associates, Inc. also includes the following services: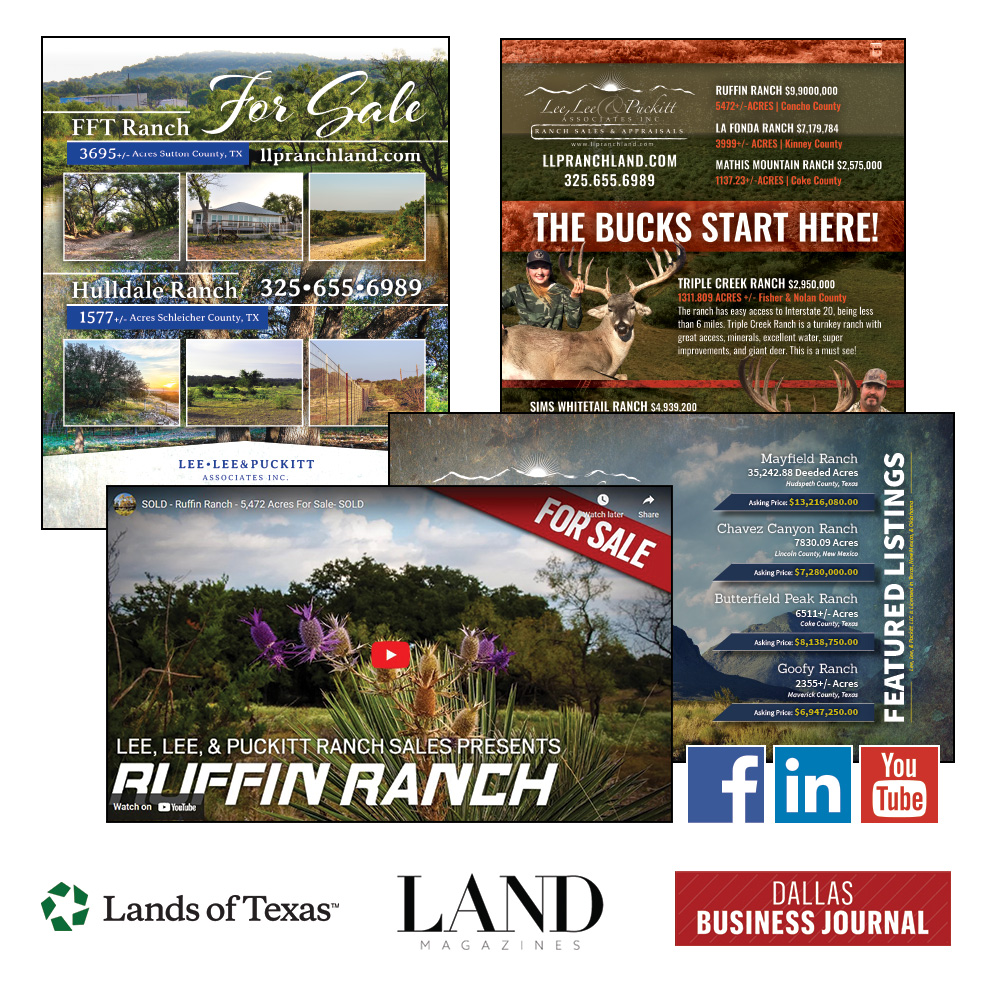 Property Photography

High Resolution, Print Ready Photography
Highlight Improvements & Terrain Features
For Use on the Web and Print Media

Promotional Video Production

Video Featurette of Your Property
Traditional Videography to Highlight Improvements
Drone Videography to Highlight Landscapes and Topography
Professional Voice Over
Professionally Edited
Perfect for Marketing on Social Media & Youtube

Traditional Print & Digital Marketing

Texas Monthly
Dallas Morning News
Austin American Statesman
Houston Chronicle
El Paso Times
Lands of Texas Magazine
The Land Magazine
Livestock Weekly
Select local & regional publications
Select digital platforms

Direct Marketing to our VIP Client List

Our Personal List of VIP Buyers & Sellers
Developed From Over 60+ Years of Land Brokerage Relationships
Direct Exposure to Serious National & International Clients

Highest Tier Placement on Lands of Texas
Social Media Marketing
Email Marketing
Traditional Mailer Marketing
Marketing services included for free with your listing*
*Disclaimer: Please note that in an effort to help sellers get their property sold fast, and at fair market value, Lee, Lee & Puckitt Associates, Inc. will conduct an assessment of your property to determine the most effective marketing strategy. As a result, utilization of the aforementioned complimentary marketing avenues are up to the discretion of Lee, Lee & Puckitt Associates, Inc. on a case by case basis. Typically we will utilize some, but not all of the services listed above.
Services for Buyers
Lee, Lee & Puckitt Associates, Inc. has been assisting buyers in finding their perfect property for over 60 years. Whether you are looking for a place to turn into your weekend getaway with friends & family, an outdoorsman's paradise, a corporate retreat, or an investment property, Lee, Lee & Puckitt is here to assist you every step of the way.
At Lee, Lee & Puckitt Associates, Inc. we get to know our buyers and their specific needs so that we don't waste your time showing you the wrong properties. We will assist and represent you in all aspects of the buying process ranging from scheduling viewings and land valuations, to negotiating price and terms of sale. We also have long lasting relationships with many law firms and financial institutions should you need a referral.
One of the advantages to choosing Lee, Lee & Puckitt Associates, Inc. to represent you as a buyer is that through our extensive network of business relationships with other brokers throughout Texas, New Mexico, and other parts of the US, we have exclusive access to a large number of prime ranchland real estate properties both on and off market. As a result, we often get notified in advance of new listings before they even hit the open market, giving our buyers early access to new properties.
Land Appraisals
As a landowner, it is sometimes important to have an accurate and thorough understanding of the value of your property. Whether you're looking to buy, sell, or simply have a better understanding of your assets, Lee, Lee & Puckitt's land appraisal services can provide you with the information you need. Our experienced and certified appraiser has extensive knowledge of the Texas land market and can accurately evaluate your property taking into account factors such as acreage, location, water rights, mineral rights, and improvements. As landowners and ranchers ourselves, we understand the unique characteristics of ranching and investment properties, and can provide you with an accurate and detailed report in a timely manner. Contact us today to schedule your appraisal and take the first step towards understanding the true value of property that you own or intend to buy.
Broker Price Opinions
It can often be beneficial for landowners to have the knowledge of the current price that their property could be marketed outside of the scope of a full appraisal. Lee, Lee & Puckitt's Broker Price Opinion (BPO) services can provide you with a quick and reliable estimate of your property's worth, giving you the information you need to make informed decisions. Our brokers and agents will conduct a quick but thorough analysis of your property with regards to current market conditions and provide you with a comprehensive BPO report at a lower cost than an appraisal. While BPOs are a useful assessment of your property's current market price they might not be appropriate given your specific situation. As a part of our assessment, Lee, Lee & Puckitt will help to assist you in determining whether a BPO or an appraisal is right for you, or may recommend for you to consult with your accountant or attorney.