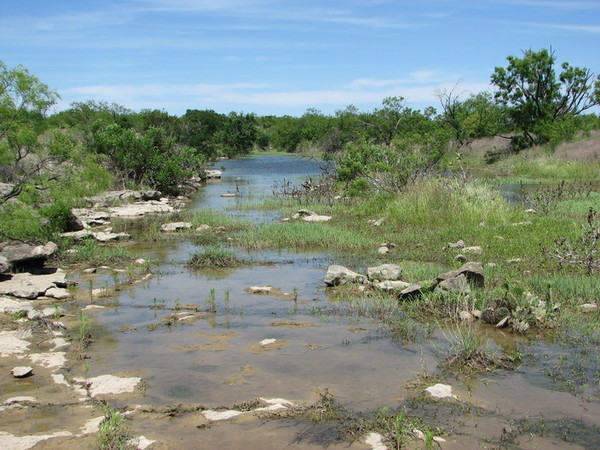 Acreage:
3842
County:
Runnels County
Location:
Triangle Ranch is located approximately 18.5 miles southwest of Ballinger Texas on County Rd. 128.
Terrain:
The elevation ranges from 1674 ft on the west end of the ranch to 1782 ft. on the east end. Gently sloping to near level lands on the west change to more rolling low hillsides on the east end. Two creeks, Rocky creek and Grape creek cross the ranch north to south and have intermittent water holes during normal rainfall years. Mesquite and cedar, tickle tongue, little leaf sumac and various other brush species provide cover over the entire ranch. Various native grass species provide livestock forage.
Water:
There is one, weak water well (currently not operating near the residential improvement). Additional water is supplied by a raw water tap on the Lake Ivey to Abilene water line. There are several earth tanks, small to large throughout the ranch.
Improvements:
There is a brick veneer ranch house of 1700 plus sq.ft in very usable condition on the west end of the ranch. The ranch is cross fenced in several pastures and there is a set of steel corrals.
Recreation:
This area has had a very huntable population of Bobwhite quail and quality white tailed deer, turkey and dove to provide excellent hunting. With Deer in the 140 to 160+ class, have been regularly harvested on this and the neighboring ranches.
Price:
$5,070,120
Comments:
We are very familiar with this area having sold this ranch and the adjoining approximately 16000 acres in the past. This area has continuously been prime ranch country with long term outstanding quail hunting, trophy deer and an abundance of Rio Grande turkey all being a bonus.
Disclaimer:
The information contained herein is compiled from sources believed to be accurate, but no warranties or representation as to its accuracy are made.
Topography Map:
The topography map for this property is available upon request. If you would like a copy of the topography map, please call 325.655.6989.