Goofy Ranch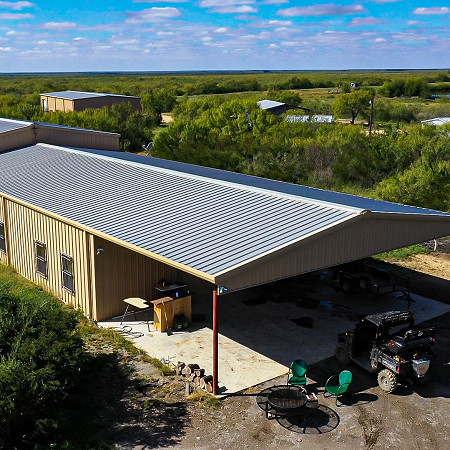 Acreage:
2355
County:
Maverick
Location:
The Goofy Ranch is located approximately 22 miles southwest of Uvalde Texas. The ranch has blacktop frontage off FM 481 just across the Maverick Co. line.
Terrain:
The Goofy Ranch is primarily flat to rolling South Texas brush country. This part of Maverick Co. has some of the best brush available along with plenty of big bull mesquites.
Water:
Water: There are two water wells located on the north end of the ranch that are approximately 280 ft. deep and are equipped to produce 30 gpm. The water quality is said to be excellent. These wells supply water to the improvements along with several water troughs scattered across the ranch.
Surface Water: Goofy Lake, the ranch's namesake, is a special body of water located on the south part of the ranch and covers 150 +/- acres when full. A tremendous amount of time and money was spent in the design and improvement of this lake. Goofy lake is over 30 ft. deep at the dam and has produced some outstanding bass fishing and duck hunting. The largest bass being 15.3 pounds. Along with the lake, there are also eight other stock tanks on the ranch, which most of them hold large bass as well.
Improvements:
A very nice 2000 sq. ft. 3-bedroom, 2 bath main house built in 2004 sits approximately ½ mile from the entrance. There is also a 3-bedroom, 3 bath hunters lodge with attached shop barn along with a large equipment barn, walk in cooler, and several other outbuildings and sheds that are located down by the lake.
Recreation:
Goofy Ranch is an excellent hunting and fishing ranch. The ranch is stocked with Sims Whitetail genetics and has produced some great deer.
Price:
$6,947,250.00
Comments:
The Goofy Ranch with it's outstanding hunting and fishing along with its improvements, great access, and is in a class of its own. There is also an additional 1764-acre ranch next door that is also available if more land is desired.
Disclaimer:
The information contained herein is compiled from resources believed to be accurate. No warranties on the state of ownership of real or any personal property nor any representation as to its accuracy are made by Lee, Lee and Puckitt Associates, Inc. and/or its agents/brokers.
Interactive Map: